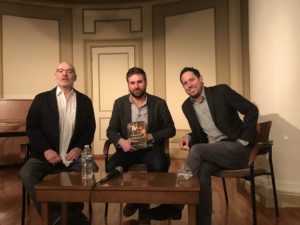 It was fantastic to collaborate again with the great folks from my alma mater, George Mason University.
My friend Matt Davis, who directs the Alan Cheuse International Writers Center (and who was with us for Ahmed Naji's reading in January), returned to Handley Library and joined me in conversation with fellow GMU professor –and former classmate in the esteemed University of Iowa MFA Program– Tim Denevi.
Timothy Denevi is the author of Freak Kingdom: Hunter S. Thompson's Manic Ten-Year Crusade Against American Fascism (PublicAffairs, 2018) and Hyper: A Personal History of ADHD (Simon & Schuster, 2014). His essays on politics, sport, and religion have recently appeared in The Paris Review, New York Magazine, Salon, The Normal School, and Literary Hub. He received his MFA in nonfiction from the University of Iowa, and he's been awarded fellowships by the MacDowell Colony and the Virginia Center for the Creative Arts. Tim is an assistant professor at George Mason University and lives with his family near Washington, DC.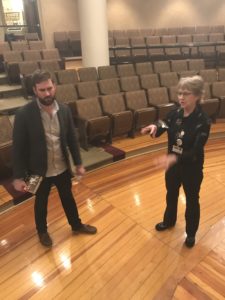 I'm a big fan of Hunter, and of course worship at the altar of Fear and Loathing in Las Vegas, but I also think his essay –the sublimely titled– "The Kentucky Derby is Decadent and Depraved" is a masterpiece; it's him at the very top of his game, using his wit, his considerable intelligence and lacerating reportorial eye, but concise, digestible, unforgettable. (And if, with that piece, he could be accused of shooting some very wealthy and insular fish in a bourbon-scented barrel, somebody had to do it. The pompous and circumstance of a spectacle like the Kentucky Derby needed to be sent up. And the thing about the good doctor during his prime, when he decided to do something, it stayed done.) I think this piece illustrates Thompson figuring out a new type of writing, which he put to service as the Nixon reign began.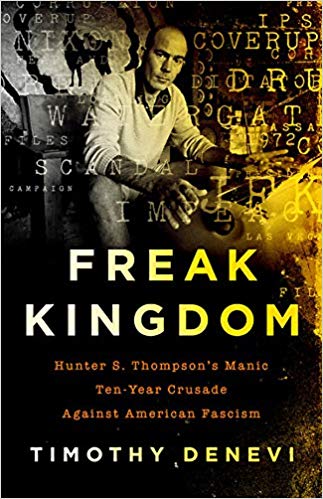 All of which is to say, I enjoyed reading in more detail the behind-the-scenes tensions that informed his work. What I think Freak Kingdom will do for both casual and serious fans is help demystify the Thompson Legend. Yes, he had voracious appetites but I think one of the remarkable and necessary things this book does is make it clear that, at least for many years, it was not the proverbial appetite for destruction, but for Truth with a capital T.
It was also very instructive to see how much he struggled, financially, creatively, and otherwise until he found his groove. In that regard, it might be said that as much as he loathed Nixon, he also needed Nixon. Tricky Dick was the White Whale to his Ahab, and Thompson tracked and harried him, with varying levels of success, for two decades. I was at once surprised and disheartened –even though I consider myself a reasonably astute student of history and political obsessive– how much nothing is new under the sun; there are so many recurring events and images that resonate with where we are today with regards to He Who Shall Not Be Named…
One example: the book discusses demagogue extraordinaire George Wallace's disgracefully successful campaign in '68: here we are, with assassinations of civil and political leaders, the imbroglio in Vietnam evolving, and Wallace's central talking point and the number one issue in the south and throughout "middle America" was virulent opposition to school busing. That hurt to read. (Flash forward to C'ville and the March of the Tiki Torches, Build The Wall, etc.)
If you're a fan of history –and the sad ways it repeats itself– this book is highly recommended. If you are even a slight fan of Hunter S. Thompson, this is an essential read.
We had an enjoyable and very enlightening conversation. Unfortunately, no video was captured, but the silver lining is that we'll simply have to invite Tim and Matt back to a VCLA event for further discussion. To be cont'd.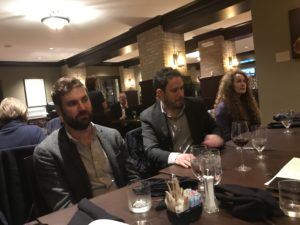 We'll see you at our next event, April 11 at Handley, featuring the tag-team talents of Ed Aymar and Angie Kim!