About 1455
Sean Murphy, Executive Director
1455: Cultivating Creativity & Community
1455 is a nonprofit organization seeking to advance the appreciation of and passion for the literary arts through programs that support expression, education, and the sharing of writing and literature.
Our mission is to build and support a dynamic, innovative community that provides established and emerging writers with time and space to create, and the resources to encourage and inspire writers at all stages of their careers.
Located in the historic town of Winchester, Virginia, 1455 serves as a writer's residency, a writing retreat center, workshop space, a place of learning and creativity, and a vibrant community in support of writing and the literary arts. In addition, it's a venue for readings, author talks, and events that share and promote the appreciation of literature, art, cuisine and culture.
A year-round operation, 1455 will appeal to attendees whose schedules require flexibility. The center, inclusive by design, welcomes anyone with a desire to write, who is open to joining a group that mutually assists and inspires.
1455 believes diversity is strength, on the macro level (writing) and micro level (writers). As such, we want to work with fiction writers (very much including playwrights and screenwriters, the more genres the better), poets, and general non-fiction writers (including creative non-fiction, journalists, essayists, reporters, and critics). Our programming and events reflect this big tent sensibility, and we look forward to encouraging and showcasing work that evinces the multitudes literature contains.
Why 1455?
It may not be the single most important year in literary history, but it's certainly one of them…
WHY: This is the year Gutenberg's printing press—an invention and obsession it took more than a decade to perfect—began printing books on a prolific scale, effectively moving civilization into modernity, arguably the most democratizing innovation in human history.
WHAT: Without this advancement the act of storytelling would be, at worst, still an oral tradition, and at best, reserved for an elite class who controlled the creation and dissemination of information. As such, knowledge, literacy, and appreciation of culture and tradition were advanced, practically overnight.
HOW: We can trace a line from the first poetry written on cave walls to contemporary novels published without ink or paper—and connecting this ancient art and modern technology is Gutenberg's paradigm-shifting idea.
(Incidentally, 1605 was a rather momentous year (Don Quixote) 1726 (Gulliver's Travels), 1755 (Johnson's Dictionary of English), 1776 (Declaration of Independence), 1851 (Moby Dick), 1922 (The Waste Land), and too many others to count…)
WHERE: The process of democratizing content continues, today. The need for personal narrative is strong as ever, and the ability to create and share these stories has never been more accessible. At 1455, we believe in the magic of words, the transformative power of creativity, and the collective imperative of building community. Our mission is to provide time and space for writers to create, connect, and share resources to assist writers anywhere and everywhere.
So…what's the most important year?
This year.
Why?
This is the year you write your own story. Feel inspired. Add to the narrative. Share your secret.
Join us.
1455: A Place for Writers
Cultivating Creativity & Community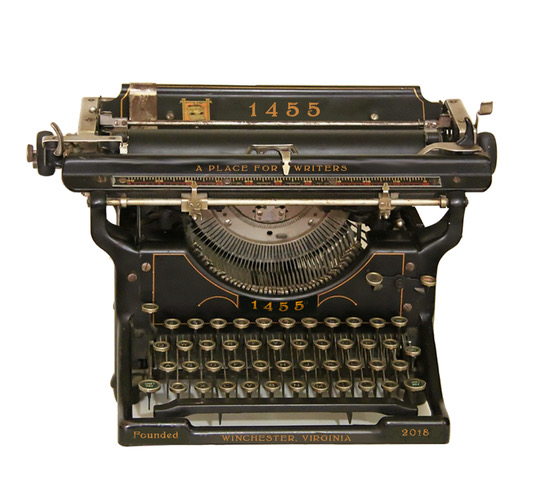 Want to learn more? Video of all-things-1455, below.
BOOKED: SEAN MURPHY Q&A WITH BETHANNE PATRICK