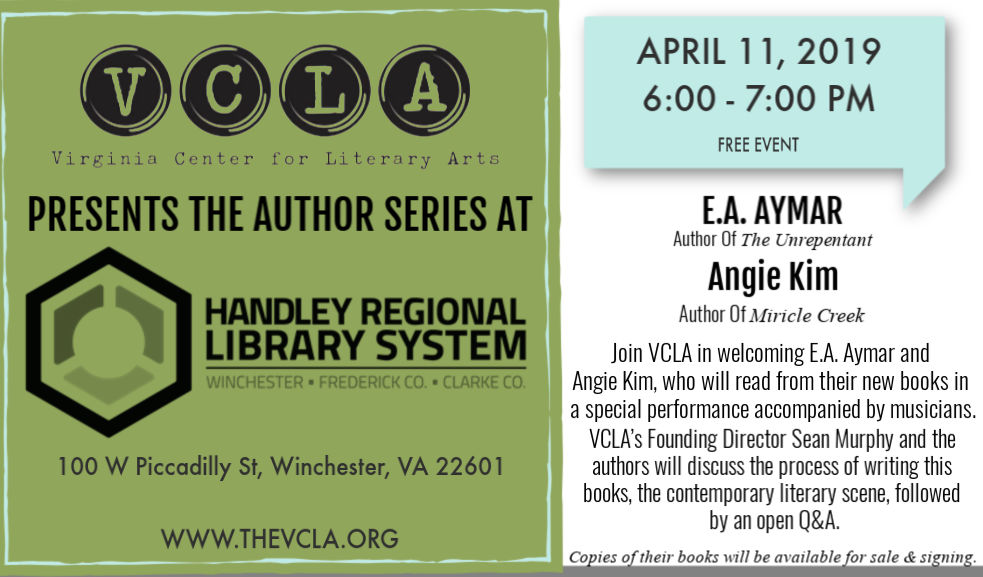 The Virginia Center for Literary Arts Author Series at Handley Regional Library continues with E.A. Aymar and Angie Kim, who will read from their new books in a special performance accompanied by musicians.
E.A. Aymar will read from The Unrepentant, and will be accompanied by Kim Venetz, a violist with the Brooklyn Symphony.
Angie Kim will read from Miracle Creek, and will be accompanied by her son, Steve Draughn, on keyboard. As a special note, Steve will be performing an original composition that was commissioned by Macmillan for the audiobook version of Miracle Creek.
Afterwards, the two authors will sit for a conversation and Q&A about their work and the performance.
In its review of E.A. Aymar's The Unrepentant, Publishers Weekly wrote, "Readers who appreciate depth of character alongside gritty nonstop action will be rewarded." In addition to his novels, Aymar is also a monthly columnist with the Washington Independent Review of Books and managing editor of The Thrill Begins, the International Thriller Writer's online resource for aspiring and debut thriller writers; he also serves on the national board of that organization and has spoken at events locally and nationally.
Miracle Creek is Angie Kim's first novel. Bestselling authors and reviews alike have praised it as "a stand-out, twisty…masterfully plotted novel" (Publisher's Weekly), "a terrific courtroom thriller [that] grabbed me hard right from the start" (Scott Turow), and "a page-turner. Should be huge" (starred Kirkus review). Angie's short fiction and essays have appeared in Vogue, The New York Times, Glamour, Salon, and Slate. She moved from Seoul, Korea, to Baltimore as a preteen. She attended Stanford University and Harvard Law School, where she was an editor of the Harvard Law Review, then practiced as a trial lawyer at Williams & Connolly. She lives in Northern Virginia with her husband and three sons.
Copies of Aymar's and Kim's book will be available for sale and signing. This is a free event!
More about E.A. HERE.
More about Angie Kim Here