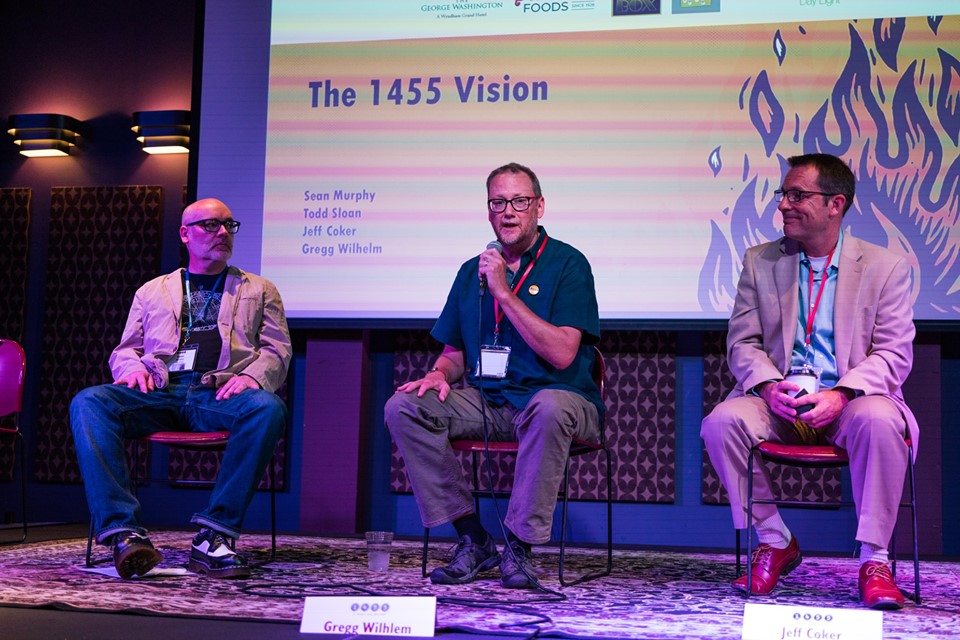 If a picture can say a thousand words, dozens of pictures might tell many millions. Even that won't do justice to the conversations, insights, and overall experiences of 1455's first Summer Literary Festival. (And if pictures aren't sufficiently tantalizing, we have tons of video, which we'll be making available in the coming weeks!)
Stretching from Thursday evening to Saturday (late) evening, we featured over 50 writers (and artists, academics, entrepreneurs, thinkers, and local movers and shakers); there were more than 20 panels, and almost 200 people took in part of (or all!) of the programming.
A big thanks to everyone who participated in this three-day event, and everyone who came out to support 1455, and a big blessing to our sponsors. Huge appreciation to Winchester Brew Works, Bright Box, Winchester Book Gallery, and Shenandoah University for partnering and providing their awesome venues.
Feedback has been uniformly positive, and while I'm already eager to address minor tweaks and seek any and all ways to improve the overall experience, the primary question I've been asked is "you plan to do this again, right?" I can say with enthusiasm that we're already looking forward to making this an annual event. While I love the idea of "bigger and better," I don't endorse going big for the sake of doing so but rather, so we can feature more writers, provide additional forums for book sales and signings, explore some interactive workshops, and accommodate the enthusiastic folks who weren't able to take part in this inaugural event.
One final word: it was important to 1455 to make this entire event free to the public. This is a model we will continue, and my goal is to make all of our programs free (as they've been since the start). That said, this was most definitely not a free event to put on, and we welcome any support from our community; all donations are tax deductible and will go entirely toward future programming and the ongoing renovations of our center (which we hope to open in 2020). Much more on all this in the months to come. For now, thank you for doing your part: coming to our events, making a contribution (of money or time), and helping spread the word is critical. Onward!
(Note: you can see a complete overview of pics via our Facebook page. Like us and follow us on social media (@1455litarts) to stay in the loop!)