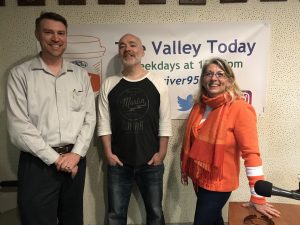 It was my great pleasure to be interviewed as the featured guest on 95.3 The River's "Tourism Tuesday," along with Winchester "Tourism Dude" Justin Kerns and Janet Michael, the hostess with the mostess.
I had the opportunity to talk about the WHAT, WHY, WHERE, HOW and ways anyone interested can get involved.
You can listen to the entire interview HERE.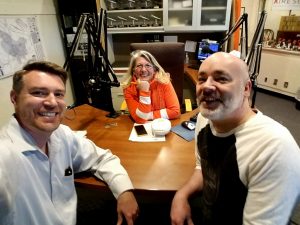 (From the 95.3 site)
We were in the studio for Tourism Tuesday with our "Winchester Tourism Dude" Justin Kerns, Executive Director of the Winchester/Frederick County Convention & Visitors Bureau and his guest, Sean Murphy, Founder and Executive Director of the Virginia Center for Literary Arts. Sean talked about his experience as a writer and a life-changing retreat on Martha's Vineyard that started him on the path to opening his center in downtown Winchester.
The Virginia Center for Literary Arts is a nonprofit organization seeking to advance the appreciation of and passion for the literary arts through programs that support expression, education, and the sharing of writing and literature. VCLA serves as a writer's residency, a writing retreat center, workshop space, a place of learning and creativity, and a vibrant community in support of writing and the literary arts. In addition, it's a venue for readings, author talks, and events that share and promote the appreciation of literature, art, cuisine and culture.
For details about the center, how you can donate or participate in their activities, visit their website: http://1455litarts.org/