It's very exciting to have the first official "ink" on VCLA appear in The Winchester Star. Full story here, and pasted, below.
Above and below are "out-takes" from a rainy photo shoot from in front of (and behind) the property, at 125 and 127 S. Braddock (as well as 125 1/2 and 127 1/2!).
As the story (adeptly and generously written by Star reporter Brian Brehm) indicates, I am actively trying to raise awareness and FUNDS to renovate these beautiful, historic buildings.
If you would like to get involved (or know someone who might) please help spread the word, sign up for our newsletter, and reach out to me anytime with questions or feedback.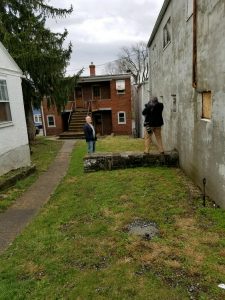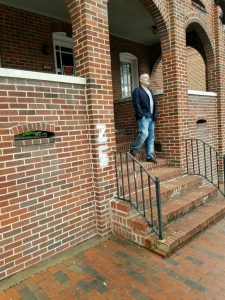 Author plans to convert downtown property into retreat for writers
WINCHESTER — If all goes according to plan, downtown Winchester will become an incubator for tomorrow's best-selling novelists.
Sean Murphy, a Reston author whose works include the 2013 memoir "Please Talk About Me When I'm Gone," the 2015 novel "Not to Mention a Nice Life," two volumes of non-fiction entitled "Murphy's Law" and pieces published in Salon, The Village Voice, The New York Post and other publications, purchased the former Old Town Business Machines at 127 S. Braddock St. for $399,000 and plans to convert it into a residential retreat for wordsmiths.
"The idea behind Virginia Center for Literary Arts is to provide time and space for writers, both established and emerging, to be creative and productive for a period of two to four weeks," Murphy said. "Everyone's going to have their own bathroom, desk and bed."
The inspiration for the nonprofit endeavor was the Noepe Center for Literary Arts residency program at Martha's Vineyard in Massachusetts, where Murphy served as writer-in-residence starting in 2016.
"It was a transformative experience," he said. "I was productive, had the chance to engage with other writers. But the center closed down last year abruptly."
Murphy committed himself to recreating the collaborative, artistic setting he had come to love in Massachusetts, so he started searching for potential locations for a new retreat near his Northern Virginia home.
"I realized Winchester had to be the place," he said. "It has everything you could want or need to have a center like this — culture, creativity, cuisine. You could spend two weeks here and barely scratch the surface in terms of things to do and explore."
The downtown property best suited for a retreat center with space for up to 10 writers at a time was, ironically, a former typewriter repair shop at 127 S. Braddock St.
"I regard it as fate," Murphy said. "When I realized it was actually a typewriter shop, I thought, 'The gods are speaking.' It almost feels like carrying a torch in a very respectful way."
The 3,487-square-foot property includes five buildings — two fronting South Braddock and three others in the rear — that provide adequate space for both private bedrooms and common areas.
"We're going to preserve as much historic character as possible, but they're going to require a full renovation," Murphy said, noting that cleanup of the buildings has already begun.
So far, Murphy said he has raised $600,000 from private benefactors and is further along at this point than he thought he'd be.
"The next several months, my focus is going to be on raising awareness and funds so I can renovate the property and start working actively on the programming schedule," he said. "People seem really excited about the project."
According to Murphy's conceptual plan, the retreat will include a large community building where writers can chat and exchange ideas, an outdoor fire pit and terrace, 11 residential suites to accommodate guests for up to six weeks, and a permanent home for the facility's manager.
"An unbelievable alchemy exists when you're around other writers for a sustained period of time," Murphy said. "Nothing can approximate five or 10 or more writers breaking bread together at night, sharing some wine, reading and critiquing each other's work, and talking about their successes and challenges."
Murphy is also planning to host special events and workshops at the retreat center featuring established authors.
"There's really nothing like this within several hundred miles," Murphy said. "We're looking at bringing in hundreds of people every year who will fall in love with the town, explore and patronize the shops."
Murphy is still working out the costs for writers who want to stay at the retreat, "but the goal is to make this extremely inclusive and extremely accessible."
He anticipates retreat rates will be "much less than what it would cost to stay a week in a hotel or bed and breakfast. I want to have a range of prices based on the types of rooms we're going to have there, but I'm looking for it to be cost-effective instead of out of reach for people."
If enough donors are willing to partner with the program, Murphy said the retreat could also offer residency scholarships for writers of any age.
The goal, he said, is to open the Virginia Center for Literary Arts later this year or in early 2019.
"With the amount of talented and sensitive people that will be drawn to this place, it's really neat to think that a future bestseller may be inspired by someone staying here and writing about Winchester," Murphy said. "I think people are going to come here and immediately get why I chose this location."
For more information and to support the Virginia Center for Literary Arts, visit 1455litarts.org.