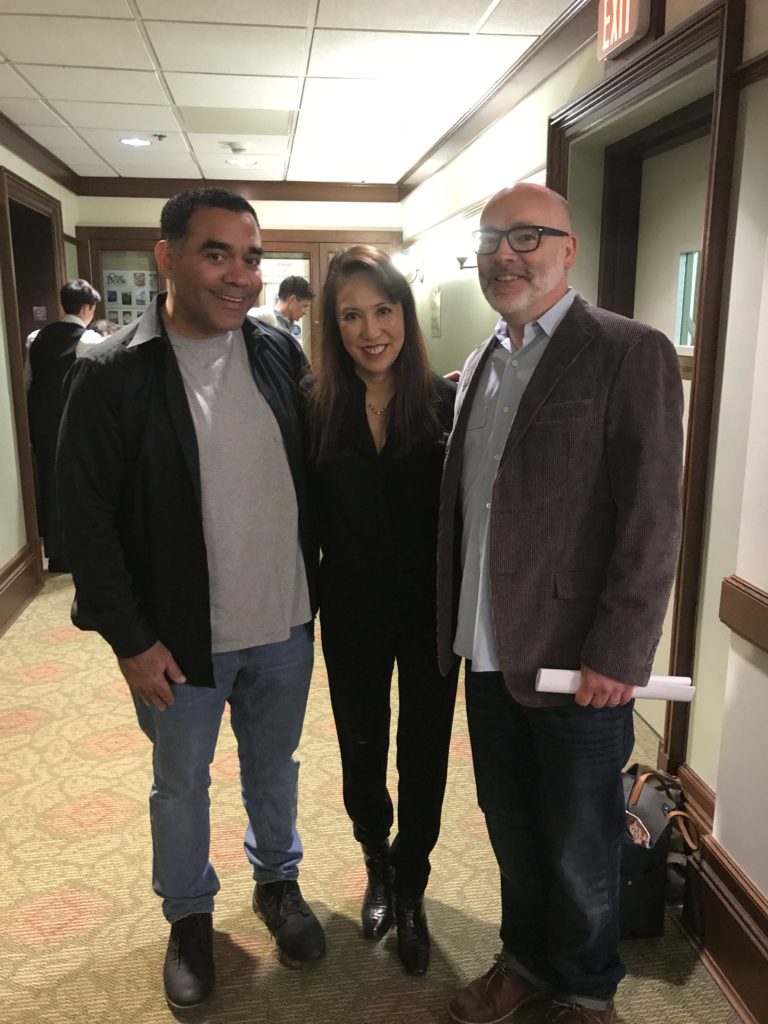 All of the readings thus far in VCLA's Author Series have been special, but it's possible this was the most organic –and symbolic– one yet. I was first introduced to novelist Ed Aymar via a mutual friend (who in turn was introduced to me by a friend…) and Ed, being the exuberant and generous soul that he is, immediately introduced me to many other writers. One of them was Angie Kim, and when Ed asked if Angie could join him on the stage for his upcoming reading, I said of course. When he mentioned they planned to use live musical accompaniment, I said: I like the way you think!
Let's face it: music and writing are not necessarily peanut butter and chocolate, and the potential for disaster, or at least unintentional parody, is extreme. I did, however, have a soft spot, and some experience with this kind of thing. Back in 2014 I decided it would be fun to do an upcoming reading in Brooklyn alongside some of my favorite contemporary musicians. This was definitely live without a net, as my friends Jon Madof, Aram Bajakian, and Mathias Kunzli were improvising in real time as I read. I thought it was incredible, but you can judge for yourself!
All of this said, I had no idea that Ed and Angie would deliver in such spectacular fashion. A bit about them both, below.
E.A. Aymar's most recent thriller, The Unrepentant, was published in March of 2019 by Down and Out Books. His other thrillers include the novel-in-stories The Night of the Flood (in which he served as co-editor and contributor), as well as I'll Sleep When You're Dead and You're As Good As Dead.  Aymar's column, "Decisions and Revisions," appears monthly in the Washington Independent Review of Books, and he is also the Managing Editor of The Thrill Begins, ITW's online resource for aspiring and debut thriller writers. In addition to ITW, he is a member of the Mystery Writers of America and SinC. Aymar also runs the Noir at the Bar series for Washington, D.C., and has hosted and spoken at a variety of crime fiction, writing, and publishing events nationwide. He was born in Panama and now lives and writes in the D.C./MD/VA triangle.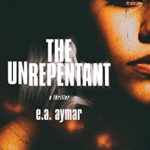 Angie Kim is the debut author of Miracle Creek, a literary courtroom drama that has been named an April 2019 LibraryReads Selection, an Amazon Pick for Best 5 Novels of the Spring, a Book of the Month Club selection, a May IndieNext pick, and Apple Books' Top Ten Debuts of 2019. Entertainment Weekly, Time Magazine, Elle, and Real Simple have picked it as best of the month. Her writing has appeared in Vogue, The New York Times, Glamour, Salon, and Slate. She moved from Seoul, Korea, to Baltimore as a preteen, and attended Stanford University and Harvard Law School, where she was an editor of the Harvard Law Review, then practiced as a trial lawyer at Williams & Connolly. She lives in Great Falls with her husband and three sons.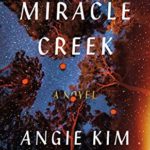 Reading a book, if it's sufficiently well-written, tells you just about everything you need to know: about the characters, the plot, the designs of the author and his or her impulses, etc. Where it gets tricky is assuming anyone can learn anything about the author based on the writing. It's inevitable and unavoidable, and suffice it to say, some authors are (often by design or because they lack the ability) fairly transparent. As the author of a memoir and a novel (and tons of non-fiction), I've wrestled with this scenario, mostly with bemusement.
Watching –and listening to– an author read from their work, you understand even more. Or not. Take Ed Aymar, for instance: his forte is crime fiction, and he's a modern master of the thriller (check out The Unrepentant and see for yourself). As such, there's violence in his work, and his most recent novel deals with extreme violence. It's necessary for the material and rings very true to life; it's disturbing in all the right ways, never gratuitous or senseless (the acts may be; the writing and moral tone never is). Nevertheless, writing about violence, particularly violence to young women, is something Ed, to his credit, has had some ambivalence about. I'd recommend reading his meditations on this topic in the superlative piece he contributed to Publishers Weekly. Here's the thing: Ed is not a violent guy, at all. In fact, he's hilarious. Gregarious, quick to laugh and able to make others laugh, a lot.
Joining Ed as he read was the exceptionally talented musician (and D.J.) Kimberly Venetz.
Angie Kim is, in many ways, the yin to Ed's yang; her exasperation with Ed's antics is (mostly) an act, as they are like brother and sister, quarreling accordingly — and lovingly. VCLA is deeply honored to be the first stop on Angie's long (and growing!) book tour, and as much effusive and well-warranted advance praise as Miracle Creek has already received, the bet here is that this book is going to break big. Unlike Ed, Angie is undeniably drawing from the real world and her actual (former) life as a trial lawyer. She writes about her experience and how it helped (and at times frustrated) the attempt to write convincing courtroom scenes.
Accompanying Angie on this occasion was her unbelievably gifted son, who played Chopin as well as an original piece. We have complete video of the entire event (coming soon!) but for now, here's an edited sample of select highlights.