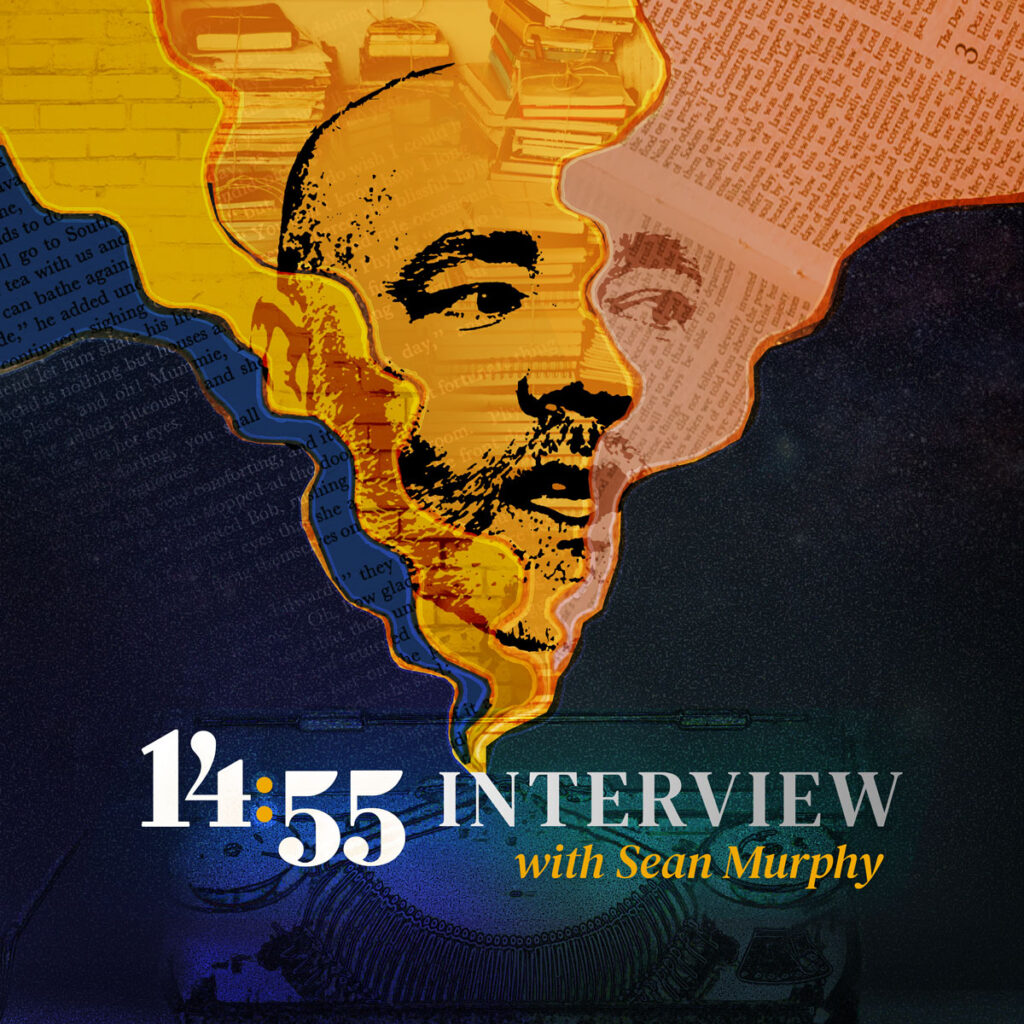 We are excited to bring the next installment of The 14:55 Interview, a new series that takes a short, but deep dive into the writing life.
Get a glimpse into what makes your favorite creative types tick—from the writers who inspired them, to the weird habits that accompany the practice of writing, their favorite places in the world, and more. Each week, Sean Murphy, Executive Director of 1455, poses 15 questions in (less than) 15 minutes in this fast-paced and insightful series.
The Questions:
The first book that made you want to be a writer?
(Or: what book changed your life?)
Your most profound artistic influence is?
Album or movie you recommend without reservation?
Best first (or last) line in any book, ever?
Most underrated author?
Why have you not read MOBY DICK?
(Or, which classic do you regret not reading?)
Is there a single theme or issue your work addresses?
What's your writing routine? (Or: do you believe in them?)
Do you believe in writer's block?
Talk about the most significant setback (artistic or otherwise)
in your life?
How have you developed your career?
Define or explain what literary success means to you.
What do you wish you had known, as an artist, 10 or 20 years ago?
Have you ever visited a writers retreat?
(If not, why; if so, how was your experience?)
One-minute exhortation for beginning writer looking for advice?
The Writers:
Our next three guests, and the video recordings of each interview, are below.
Amber Sparks is the author of AND I DO NOT FORGIVE YOU: REVENGES and OTHER STORIES; THE UNFINISHED WORLD AND OTHER SHORT STORIES; MAY WE SHED THESE HUMAN BODIES; and is the co-author of the THE DESERT PLACES. She lives in Washington, DC with two beasts and two humans, and she lives online at www.ambernoellesparks.com or @ambernoelle on Twitter.
Diane Zinna is originally from Long Island, New York. She received her MFA from the University of Florida and went on to teach creative writing for ten years. She was formerly the executive co-director at AWP, the Association of Writers & Writing Programs, which hosts the largest literary conference in North America each year. In 2014, Diane created the Writer to Writer Mentorship Program, helping to match more than six hundred writers over twelve seasons. The All-Night Sun, her first novel, was recently longlisted for The Center for Fiction's First Novel Prize. Diane lives in Fairfax, Virginia, with her husband and daughter.
Kim Powers is the author of the new novel Rules for Being Dead, the thriller Dig Two Graves; Capote in Kansas: A Ghost Story; and the critically acclaimed memoir The History of Swimming, which was both a Barnes & Noble "Discover" Selection and a Lambda Literary Award finalist for Best Memoir of the Year. Powers has worked at ABC News for the past 23 years, and is currently senior writer for the network's iconic newsmagazine 20/20, part of the team that has received an unprecedented three consecutive Edward R. Murrow Awards. He has also received two Emmys for his work at both Good Morning America and 20/20. He lives in New York City and Asbury Park, NJ, and is married to Tony-winning costume designer Jess Goldstein.