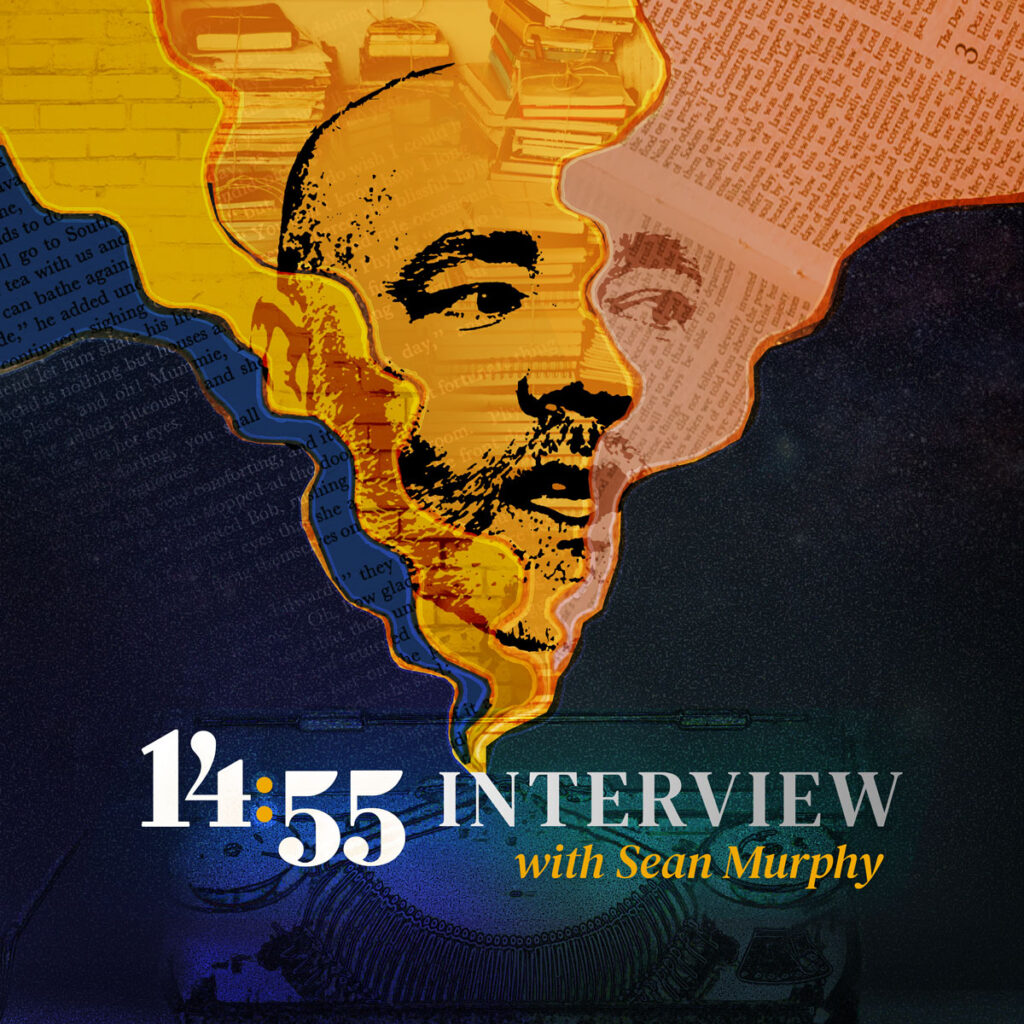 We are excited to bring the next installment of The 14:55 Interview, a new series that takes a short, but deep dive into the writing life.
Get a glimpse into what makes your favorite creative types tick—from the writers who inspired them, to the weird habits that accompany the practice of writing, their favorite places in the world, and more. Each week, Sean Murphy, Executive Director of 1455, poses 15 questions in (less than) 15 minutes in this fast-paced and insightful series.
The Questions:
The first book that made you want to be a writer?
(Or: what book changed your life?)
Your most profound artistic influence is?
Album or movie you recommend without reservation?
Best first (or last) line in any book, ever?
Most underrated author?
Why have you not read MOBY DICK?
(Or, which classic do you regret not reading?)
Is there a single theme or issue your work addresses?
What's your writing routine? (Or: do you believe in them?)
Do you believe in writer's block?
Talk about the most significant setback (artistic or otherwise)
in your life?
How have you developed your career?
Define or explain what literary success means to you.
What do you wish you had known, as an artist, 10 or 20 years ago?
Have you ever visited a writers retreat?
(If not, why; if so, how was your experience?)
One-minute exhortation for beginning writer looking for advice?
The Writers:
Our next three guests, and the video recordings of each interview, are below.
E. Ethelbert Miller is a writer and literary activist. He is the author of two memoirs and several books of poetry including THE COLLECTED POEMS OF E. ETHELBERT MILLER, a comprehensive collection that represents over 40 years of his work. For 17 years Miller served as the editor of Poet Lore, the oldest poetry magazine published in the United States. Miller is a two-time Fulbright Senior Specialist Program Fellow to Israel and holds an honorary degree of Doctor of Literature from Emory and Henry College and has taught at several universities. He is host of the weekly WPFW morning radio show ON THE MARGIN WITH E. ETHELBERT MILLER and host and producer of THE SCHOLARS on UDC-TV. In recent years, Miller has been inducted into the 2015 Washington DC Hall of Fame and awarded the 2016 AWP George Garrett Award for Outstanding Community Service in Literature and the 2016 DC Mayor's Arts Award for Distinguished Honor. In 2018, he was appointed as an ambassador for the Authors Guild. Miller's most recent book IF GOD INVENTED BASEBALL, published by City Point Press, was awarded the 2019 Literary Award for poetry by the Black Caucus of the American Library Association.
Tara Campbell (www.taracampbell.com) is a writer, teacher, Kimbilio Fellow, and fiction editor at Barrelhouse. Prior publication credits include SmokeLong Quarterly, Masters Review, Monkeybicycle, Jellyfish Review, Booth, and Strange Horizons. She's the author of a novel, TREEVOLUTION, a hybrid fiction/poetry collection, CIRCE'S BICYCLE, and a short story collection, MIDNIGHT AT THE ORGANPORIUM, which received a starred review in Publishers Weekly. Her latest collection, Political AF, is now available. She received her MFA from American University in 2019.
Clifford Garstang is the author of HOUSE OF THE ANCIENTS AND OTHER STORIES. He is also the author of the novel THE SHAMAN OF TURTLE VALLEY, a novel in stories, WHAT THE ZHANG BOYS KNOW, which won the Library of Virginia Award for Fiction, and a prize-winning short story collection, IN AN UNCHARTED COUNTRY. He is the editor of the three-volume anthology series EVERYWHERE STORIES: SHORT FICTION FROM A SMALL PLANET, stories set around the world, and the co-founder and former editor of Prime Number Magazine. A former international lawyer, he now lives in the Shenandoah Valley of Virginia.