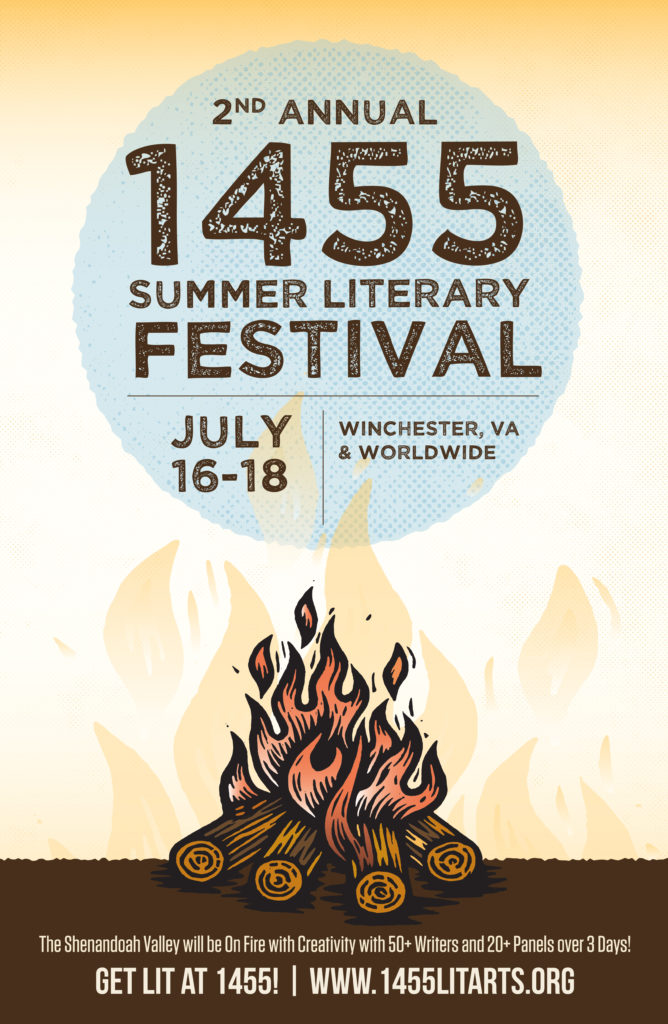 FOR IMMEDIATE RELEASE: CONTACT: Liz Stein
JULY 24, 2020 Email: Liz@lizsteinconsulting.com
1455 Celebrates the Success of the Community with a Blockbuster Attendance at the Second Annual Literary Festival
Winchester, VA — 1455's Second Annual Literary Festival concluded in celebratory fashion, having quadrupled its registration numbers from last year's event. Despite shifting to online programming, the festival that ran from July 16 – 18 delivered a variety of content, from interviews to workshops, with an impressive lineup of authors, poets, educators, and creatives. The organization witnessed a more than 400% growth in pre-registrations and ultimately hosted a total of 2,146 participants throughout the event's free programming. The literary event featured a diverse array of more than 150 speakers across 50+ panels all focused on the power of storytelling and the crucial role it plays in the creative and academic fields, as well as the business and political arena.
The 1455 Literary Festival welcomed participants from around the globe including China, Tunisia, Egypt, Barbados, South Africa, Brazil and the UK, all uniting across its three focal tracks of "Inspiration & Advocacy," "Timely & Topical" and "Craft & Community." Among the most popular sessions were "The Untethered by Aguas Arts Ink," a collection of spoken word and monodrama from Black writers and actors from Virginia curated by Francis Tanglao Aguas, "The Publishing Industry in 2020: What Writers Need to Know" with Jane Friedman, "The 10 Commandments for Becoming a Writer" with Karen Bender, "The Art of Storytelling with Stephen Tobolowsky," a conversation with actor and author Stephen Tobolowsky, and keynote interview with former Esquire literary editor Adrienne Miller, author of the new memoir In The Land Of Men. In recognition of her entrepreneurial and philanthropic achievements, as well as her extraordinary book Be Fearless: 5 Principles For A Life Of Breakthroughs And Purpose, 1455 was pleased to name Jean Case recipient of its first Storytelling Award, which was followed with a wide-ranging interview. Like all the programming, this conversation was recorded and will be made available via 1455's website.
"It was incredibly gratifying to be joined by such an engaged and global audience at this year's festival," said 1455's Executive Director Sean Murphy. "This enthusiastic response confirms our belief that celebrating creativity and building community is empowering and contagious. 1455 is committed to showcasing the written word and connecting people who share a passion for the arts. It was also important to make this year's event as inclusive and topical as possible, and we're proud to have produced such quality content at a time when peoples' ability to freely interact has been disrupted. We were able to provide a variety of content for interests ranging from literature and politics to poetry and pop culture. It was particularly meaningful to honor Jean Case for her best-selling book Be Fearless: 5 Principles for a Life of Breakthroughs and Purpose, host our second Teen poet contest, and design panels dedicated to the #MeToo and Black Lives Matter movements, as well as the COVID crisis. I'm grateful we attracted a depth and breadth of talent to provide something for everyone, from workshops and readings to our keynote. I'm already excited to see what next year brings!"
This event was sponsored in part with support from Shenandoah University, George Mason University, Hollins University, Marymount University, Day Eight.
ABOUT 1455
1455 is a nonprofit organization seeking to advance the appreciation of and passion for the literary arts through programs that support expression, education, and the sharing of writing and literature. It holds events throughout the year dedicated to supporting writers of all ages and skill levels. Its annual Summer Literary Festival was held Thursday, July 16th—Saturday, July 18th, 2020. To learn more about 1455, please visit 1455litarts.org.