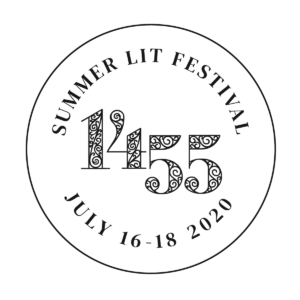 Virtual Festival Hosts More than 100 Authors, Poets and Storytellers Across Diverse Topics from COVID-19 to Black Lives Matter to live poetry and prose readings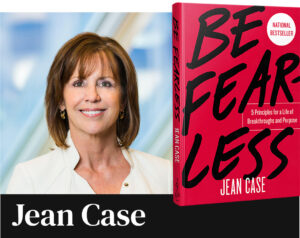 Winchester, VA. — The non-profit literary arts organization, 1455 will recognize Jean Case, Chairman, National Geographic Society and CEO, Case Impact Network with the first 1455 Storytelling Award for her best-selling book, Be Fearless: 5 Principles for a Life of Breakthroughs and Purpose, it was announced today by Sean Murphy, Executive Director of 1455. Ms. Case will be presented with this honor following a conversation with Mr. Murphy during 1455's Summer Literary Festival that runs July 16-18, 2020 virtually via Zoom and Facebook Live.
The 1455 Storytelling Award is given to a single writer for a book or collection that epitomizes not only outstanding narrative skills but is particularly relevant to current events. For the inaugural award, 1455's committee unanimously chose Jean Case's Be Fearless: 5 Principles for a Life of Breakthroughs and Purpose. While her reputation–first female Chairman of the National Geographic Society, CEO of Case Impact Network, businesswoman, philanthropist, investor, internet pioneer–precedes her, Case draws on her considerable experience and the stories of innovators that have inspired her to bring the five principles to life so individuals can bring about transformational changes in all aspects of their lives.
"We're honored to present the inaugural 1455 Storytelling Award to Jean Case for her first book, Be Fearless, a significant work that has inspired readers adapting to a rapidly changing world," said Sean Murphy. "Ms. Case joins an incredible roster of powerful voices, from well-known authors, poets, actors, and musicians, to teen poets from around the globe. This year's festival has something for every lover of the written and spoken word, and we're looking forward to a truly inclusive event."
The year's festival boasts a lineup of authors, poets, and storytellers, including award-winners and up-and-coming writers. These artists will be part of panels, sessions, workshops, and the exploration of topics including the pandemic crisis, the #BLM movement, the sociopolitical power of narrative, toxic masculinity, and many others. The programming is organized across three distinct tracks, all variations on the broader theme of Storytelling. These include:
Track 1: Inspiration and Advocacy – 1455 is dedicated to making all of their public programming free. This track showcases a diverse and remarkable roster of free workshops from incredible authors who span the genres of memoir, author platform, brand, poetry, and even an improv workshop. Some highlights of the authors and topics include Jane Friedman's seminar on the contemporary publishing industry, National Book Award finalist Karen E. Bender's "The 10 Commandments for Becoming a Writer," and Bethanne Patrick's "Building Your Author Platform 101."
Track 2: Timely & Topical – This assembly of authors and topics discusses the world we live in, from COVID to Civil Unrest, and how creatives are both impacted by these issues and working to confront and engage. Highlights include a reading from the COVID anthology Alone Together, which features several best-selling authors, the Post-COVID Classroom, a discussion amongst professors and administrators, a reading by Palestinian poet Jehan Bseiso, and a conversation with this year's Keynote Speaker Adrienne Miller, whose recent memoir In the Land of Men explores her experiences being the literary editor of Esquire, many years before the #MeToo movement.
Track 3: Craft and Community – This track brings in authors and where attendees can hear the story behind the story. It offers an engaging array of personal perspectives from writers across demographics — from motherhood to masculinity to fan fiction and the power of community in writing and reading. Highlights include "The Art of Storytelling," featuring actor and writer Stephen Tobolowsky, the performance of two one-act plays (featuring Alexis Camins and Jonathan Hsu), a conversation with Thurber Prize-winning author Harrison Scott Key, and 1455's annual Teen Poetry Award and reading.
For more information about 1455, being a sponsor, or donating, please visit our site.
ABOUT 1455
1455 is a nonprofit organization seeking to advance the appreciation of and passion for the literary arts through programs that support expression, education, and the sharing of writing and literature. It holds events throughout the year dedicated to supporting writers of all ages and skill levels. Its annual  Summer Literary Festival will be held Thursday, July 16th—Saturday, July 18th, 2020. To learn more about 1455, please visit 1455litarts.org.