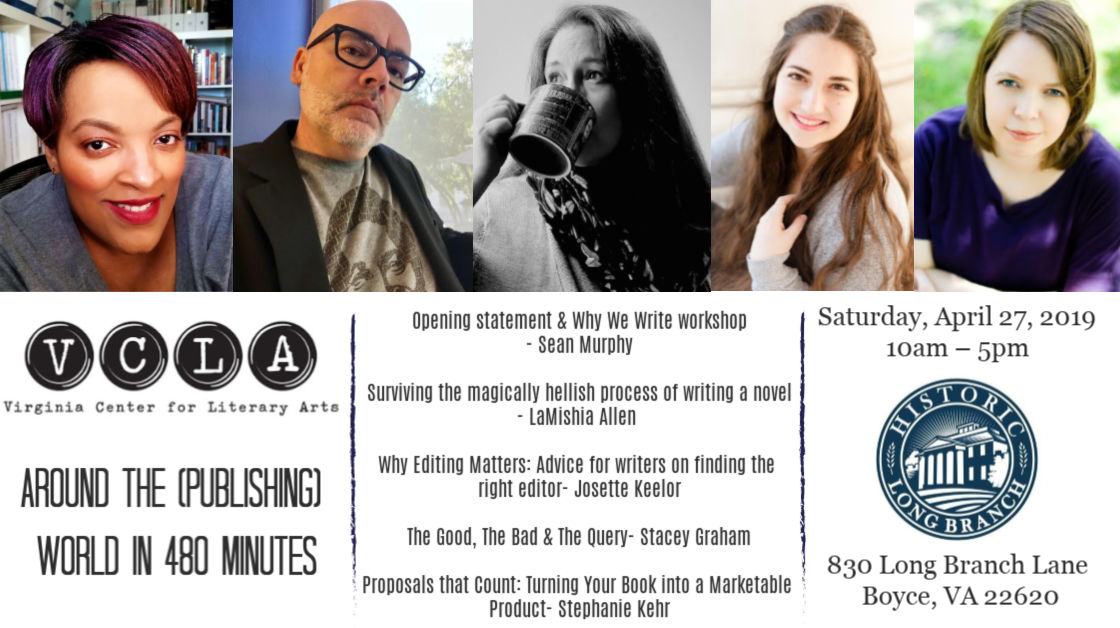 10-10:55 am
Opening statement & Why We Write workshop- Sean Murphy
Most writers come to understand, usually early on, that this craft is not a shortcut to fame and fortune. In fact, in an increasingly digital market, even non-fiction writers may find they're paying more than they're making to promote their work. So why do we do it? Short answer: because we want to; we have to. But what does it mean to cultivate a creative life? Is it possible to be productive while paying the bills? Short answer: yes, but it's a lifestyle as much as a vocation. I will talk about my unorthodox journey, and how I came to found the Virginia Center for Literary Arts as a way of celebrating creativity and cultivating community.
Bio:
Sean has appeared on NPR's "All Things Considered" and been quoted in USA Today, The New York Times, The Huffington Post, and AdAge. His work has also appeared in Salon, The Village Voice, The New York Post, The Good Men Project, Memoir Magazine, and others. He has twice been nominated for the Pushcart Prize, and served as writer-in-residence of the Noepe Center at Martha's Vineyard. He's Founding Director of Virginia Center for Literary Arts (www.1455litarts.org). To learn more, please visit seanmurphy.net/ and @bullmurph.
11-11:55 pm
SURVIVING THE MAGICALLY HELLISH PROCESS OF WRITING A NOVEL- LAMISHIA ALLEN
Whether you are happily plunging into your first novel or slogging through your 20th, each step of the writing process can and will have its own challenges. You may run into them while developing your characters, diving deep into world building, crafting amazing scenes & dialogue or just while trying to stay motivated. Wherever you find them, I'll be offering you tips and tricks to navigate the challenges and make sure you come out the other side with both your novel and your sanity intact.
Bio:
LaMishia Allen is an avid reader, writer, photographer and all around woman of many creative talents. She is a Virginia native whose first love is and always will be the art of storytelling. She indulges her creative spirit by writing a mixture of Paranormal Romance & Urban Fantasy Fiction and when she's not writing, she's stopping time with her photography.
12:45-1:40 pm
Why Editing Matters: Advice for writers on finding the right editor- Josette Keelor
There are two truths I've discovered about editing: Your book needs an editor, and it can't be you. I would argue that everything else is negotiable. Many new or self-published authors might feel an editor is a luxury they can't afford, but I would argue that you can't afford not to have an editor. No writer can. In this workshop, we'll discuss why editing is so important, why you shouldn't be your book's one and only editor, how to find an editor even if you're broke, and how you can help ensure your book will be a hit with readers.
Learn the difference between revising, editing, proofreading, and beta reading.
Learn how to escape some of the trappings that tend to ensnare many first-time writers while writing, revising, and editing their books.
No money to hire an editor? No problem! There are many other options for finding a good editor.
Looking to start your own editing business? Get some tips on how much to charge for your services and what to expect from the work.
Bio:
Josette Keelor spent 11 years as a full-time newspaper writer and editor. Now a freelance writer and editor, she writes magazine stories, edits books, and works with area professionals to improve the content on their websites and other business materials. She is the founder of the Shenandoah Valley Book Fest, which had its inaugural festival last fall in Old Town Winchester. She also runs the blog Cozy Travel Couch at her website, josettekeelor.com, which helps readers find a cozy spot to read or write while traveling.
1:45- 2:25 pm
The Good, The Bad & The Query- Stacey Graham
THIS. IS. THUNDERDOME Okay, not quite, but writing query letters can seem like running into a brick wall after you've finished your manuscript. If you're new to writing queries or not getting the responses you like after contacting agents, this hour-long workshop with Red Sofa Literary agent and freelance editor Stacey Graham can help. We'll cover:
The Good—Successful queries, how to format your manuscript if requested, and what many agents are looking for in their inboxes
The Bad—Ignoring submission guidelines, sending to multiple agents at once, and how spending more time on the bio instead of the story can have unwanted results
The Query—How to format a successful query, word count guidelines, and how to research agents to find the right match for your literary career
Bio:
Stacey Graham came to Red Sofa Literary from the other side of the literary divide as an author, screenwriter, ghostwriter, and editor. She currently lives outside of Washington, D.C. with her husband and five children. She considers the resulting nervous tick from her children to be charming.
2:35- 3:30 pm
Proposals that Count: Turning Your Book into a Marketable Product- Stephanie Kehr
Book proposals are daunting. From back cover blurbs to comparative titles, summarizing your "book baby" in just a few pages can seem nothing short of impossible. Nevertheless, a good proposal is not only essential to gaining a contract, but can also be a great tool to strengthen your writing. In this workshop, budding authors will learn how to write and organize each element of their book proposal. They'll hear industry trends and secrets, find out how to catch the attention of an agent, and learn—most importantly—how to turn their book into a marketable product.
Bio:
Stephanie Kehr is a Junior Agent for the Cyle Young Literary Elite (C.Y.L.E.), specializing in children's and YA books for both general and Christian markets. She currently lives in Northern Virginia and serves on the publishing board of Illuminate YA Fiction, an imprint of LPC Books. She is an adventure lover with a special place in her heart for travel and culture. Although she grew up reading books, writing and representing them became an accidental passion. To connect with Stephanie, visit www.stephaniekehr.com.
3:35 – 4:30 pm | Panel Recap and Q&A
4:30 – 4:35 pm | Closing Remarks- Sean Murphy