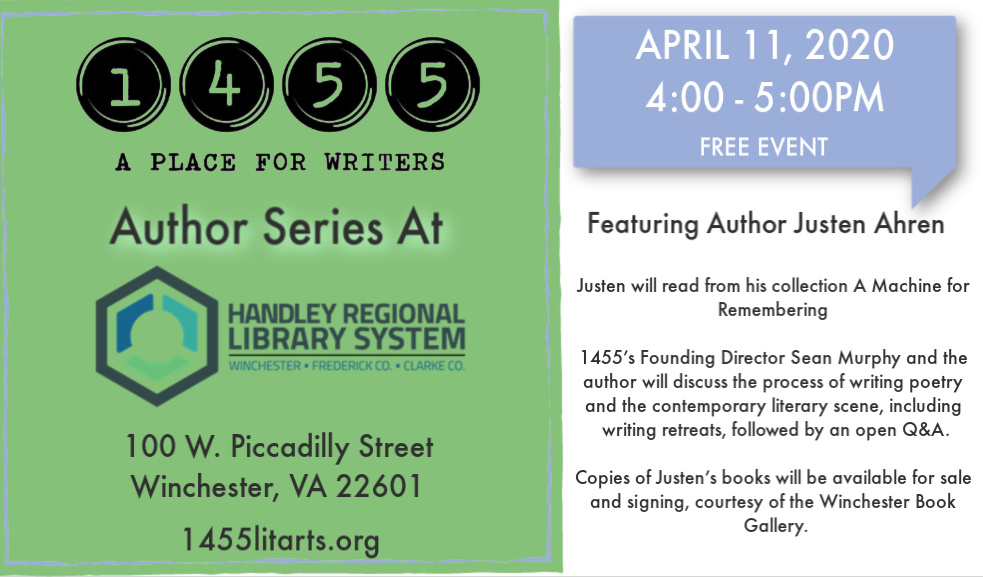 1455's Author Series at Handley Regional Library continues with Justen Ahren, who will read from his collection A Machine for Remembering.
Ahren is a poet, photographer, musician and writing workshop facilitator. He's published two collections of poetry, A Strange Catechism (2013) and A Machine for Remembering (2019). His poems have been set to music by Grammy award-winning Composer Glen Roven, and Cuban composer Ileana Perez Valezquez. He's received two commissions for poetry from Wendy Taucher Dance Theater Opera, and one from John Sims' Afro Dixie Project. His work has been exhibited at the Massachusetts Museum of Contemporary Art, and he served as Martha's Vineyard Poet Laureate from 2017-2019
1455's Founding Director Sean Murphy and the author will discuss the process of writing poetry and the contemporary literary scene, including writing retreats, followed by an open Q&A.
Copies of Justen's books will be available for sale and signing, courtesy of the Winchester Book Gallery.
This is a free event!
More about Justen.