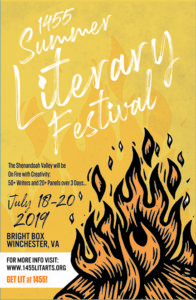 2019 Summer Literary Festival Teen Poet Contest Awards
Grand Prize ($500 Award): Taylor Fang, "Solstice," "Prehistory"
Second Prize: Sabrina Guo, "Huài shì hǎo shì" ("Evil Things, Good Things")
Third Prize: Kaja Rae Lucas, "for that morning when pretending was the only way to survive"
Honorable Mention
Catherine Ji, "meanwhile in godLand"
Madison Lazenby, "Notre Dame Burned to the Ground but That's Not What I'm Really Upset About"
Megan Lunny, "The Nostalgist's Guide to Naming the Lizard That Washes Up on Your Porch During the Flood"
Lydia Wei, "A Map of Places to Kiss in Manhattan"
Poet Bios
Taylor Fang
Taylor Fang lives in Utah, and is the 2019 National Student Poet for the West. Her poetry appears in Glass: A Journal of Poetry, Cargoes, Aerie International, and Rookie Magazine, among others, and has been recognized by the New York Times and Poetry Society of the United Kingdom.
Sabrina Guo
Sabrina Guo is an eighth grader from Long Island, New York. Since the spring of 2018, she has worked under the guidance of Stone Soup magazine's founder, William Rubel, to help develop a program that features film, photography, and writing by refugee children. She's also worked with Another Kind of Girl Collective (AKGC), which holds photography and film workshops for Syrian refugee girls living in Jordan. In addition, she has founded 'Crossing Borders,' an international pen-pal program that aims to connect Syosset district students with young female Syrian refugee artists living in Za'atari Camp, Jordan, facilitating chances to learn from each other, share stories, and inspire one another. She has won four national Gold Medals in the 2018 and 2019 Scholastics Art & Writing Awards in Journalism and Poetry, and also the recipient of the 2019 Civic Expression Award in Poetry, one of only three students in the country chosen across all writing categories in 7-12 grades. The winning poem, Sacrifice, is the only writing piece selected to be featured on the Scholastics website and published in "The Best Teen Writings of 2019" by Scholastic, Inc., along with being exhibited in New York City. Besides writing, her other love is music. Since 2016, she has been the first violinist of the Joyous String Ensemble (JSE), the youngest string ensemble in the world.
Kaja Rae Lucas 
Kaja Rae Lucas is a poet and writer from Baltimore, Maryland. She is a member of the 2019 Baltimore City Wide Poetry Team. You can find her work in Cosmonauts Avenue, Riggwelter, and Crab Fat Magazine. She is the author of (beamphrase) (circles) from the 2019 Damaged Goods Chaplet Series.
Catherine Ji
Catherine Ji is an incoming freshman at the Massachusetts Institute of Technology. Her work has been recognized by the National YoungArts Foundation, the Idaho Commission for Libraries, and the Scholastic Art and Writing Awards, with flash fiction published in The Scholastic Art and Writing Awards' 2017 National Catalog. She was named a 2018 National Student Poets Program semifinalist.
Madison Lazenby
Madison Lazenby is a recent graduate of Millbrook High School, in Winchester Virginia. There she was the founder of the creative writing club and the Editor-in-Chief of the school newspaper. She is also a graduate of the UVA Young Writers Workshop and has been recognized by the Scholastic Art & Writing Awards, the F. Scott & Zelda Fitzgerald Museum, and Body Without Organs. She will be attending her dream school, Hamilton College, next fall. Her goal in life is to receive a Harrison Hug.
Megan Lunny
Megan Lunny is a 2019 National YoungArts Finalist in Writing, a 2018 Foyle Commended Poet, a 2019 Semifinalist for US Presidential Scholar in the Arts, and the recipient of the American Voices Medal (2019), the National Scholastic Gold Medal in Short Story (2019), and the National Scholastic Gold Medal in Flash Fiction (2018). Her prose and poetry have appeared or are forthcoming in Alexandria Quarterly, The Best Teen Writing of 2018, Cleaver Magazine, River Heron Review, andAcumen Young Poets. She is a former prose mentee of The Adroit Journal and a current Writing Fellow of Counterclock Journal.
Lydia Wei
Lydia Wei is a 16-year old writer and artist attending Richard Montgomery High School. Her favorite poets include Langston Hughes, Arthur Rimbaud, Sylvia Plath, and Jane Wong. Lydia is one of the Editors-in-Chief of ​Fine Lines​, her school's literary magazine. She also volunteers with Writopia to promote creative writing for children, and with Arts on the Block to create mosaics and public art installations for her community. During her free time, she loves visiting parks, drawing, making collages, and baking bread.
Remarks from Sean Murphy, Executive Director, 1455
Two things impressed and humbled me about this, our first teen poet competition: the number of submissions (just under 70) and the quality of those submissions. As a writer of—and advocate for—poetry writing, I certainly hoped the response would be meaningful, and I was optimistic the quality of the writing would be noteworthy. I was, nevertheless, delighted and, at times, astonished at the brilliance of the poems. Indeed, I experienced the two biggest dilemmas every contest judge fears but can't help hoping for: narrowing down the finalists and picking a winner. On one hand, it's easy because when you have an offering of exceptional poems, there are no real winners or losers; on the other hand, you ultimately are left with only one choice. It's important to reiterate that these poems were read blind. Per the contest guidelines, no author information was to appear on any of the poems, and the personal biographies of each were sent as separate attachments. When the judges realized that two of the poems that were on each list of finalists were by the same writer, it made it (a bit) easier to pick the grand prize winner. I think one indisputable sign of an excellent writer is the feeling you get when reading their work: you not only appreciate and marvel at the words before you, but find yourself already looking forward to future work. As such—and this is true of all the finalists—I greatly anticipate reading many, many more poems from Taylor Fang.
*We've asked the poets to send us video of them reading their poems; if/when we receive these we will add to the site. All of the poems will be read live (by the poets or judges) this Friday as part of 1455's Summer Literary Festival. To register or for more details, please visit the event site.
Remarks from co-judge Maia Siegel
"Prehistory" packs a lot into a short poem. It uses enjambment intelligently, such as in the lines "someday he could be president/ or better. Leader" or "He'll shake/ 8-balls".  The images are clear and commanding. The ending is simple and satisfying. A mark of a good writer is being able to convey many emotions in simple, few words. Endings are super important to me, so this gives it major points.
"Solstice" was an equally impressive poem. I loved the line "Grandfather called. He says/ he's sleeping well…/(A certain bitterness/ in her voice.)" There's a meandering, stream-of-consciousness feel to it that works because there's a strong grasp of craft here. The indentation of certain stanzas seems random, but I don't mind it. And, again, the ending sticks its' landing!
"A Map of Places to Kiss in Manhattan" reminded me a little of a Frank O'Hara love poem, where New York is not just the setting of the relationship, but a supporting character in it. It's a little cutesy, yes, but it feels incredibly earnest. I loved the image of the author watching the crosswalk light change while they're kissing someone, and ending the kiss when the time's up.
"Meanwhile, in godLand" starts out with that familiar biblical line, and then gets deliciously weird. I really liked how the capitalization was irregular. It mirrored all the capitalized pronouns in the bible. Pairing religious language with Walmart, Tom Cruise, and The National Enquirer was a risk that paid off. The ending was unexpected, and leaving it unpunctuated gives the poem a drifting feeling that goes with the final balloon image.
"Huai shi hao shi (evil things, good things)" is a solid poem about cross-cultural connection. The friends' separate number traditions, one Greek, one Chinese, are actually quite similar. Smashing pomegranates on your lawn is a striking image, and it's a strong start to the poem. The eye dropper is less exciting, but it lends a nice physicality to the number traditions.
Remarks from special guest co-judge, Kristin Bock
In general, I appreciate that the speakers of the poems seem to be wrestling with something larger than themselves. The first poem,"for that morning when pretending was the only way to survive" is the best example of that struggle for me. The language is lively and surprising. And, although much of the poem is a little cryptic, when I get to "Olanzapine" the poem falls into place contextually.
"meanwhile in godLand" is a bit more cryptic, though I like the movement and its oddness. I love last few lines: "when someone says in a slick voice/to lug your Sorry-Ass to Walmart./to go and get some grocery store cake,/Fetch balloons the size of a house."
I like the Notre Dame poem, the Lizard poem and the Pomegranate poem equally! They have strong voices, and the poets seem wise beyond their years. Also, the poets have a good handle on craft—line ends are solid, there's music, not too wordy, and good imagery.
I've read "Prehistory" over and over and get something different from it each time. It also has a wisdom about it and, although I'm not completely sure of the big picture (other than this is a preview of a life), I enjoy the weird details and the complexity of the "he" in the second stanza a whole lot. It's a unique approach to a poem and it has a grit to the voice (especially in the beginning) that I like a lot. One of my favorites.
The Winning Poems
Solstice
I dress slowly.
In the kitchen, Mother cracks eggs
over rice. Golden
into white.
Grandfather called. He says
he's sleeping well…
(A certain bitterness
in her voice.)
As if we could escape
what circles back—
the air, the day, bold cotton
and milk white,
slippery
as fine silt, slow rain
soaking my apologies
in lines.
How stupid I was
when we last visited.
Wearing a flimsy dress
in Grandfather's dark house,
pressing fingers
to the sticky tape
on his windowsills.
What did I care
for his second wife,
the frozen meat dredged up
from the depths
of his freezer,
barely careful enough
to not dredge up
the wrong words,
tongue screened flat
behind my bright teeth.
The spring
continues, indifferent.
Lineage of color:
dark clay and sweet
plum,
undertones of brown.
Laid bare
to the sky, an ear to listen, clean
as a hand, a wrist
without a sleeve.
Yes, I thought the low clouds
could be shelter.
(Surrounded,
as I was, by air
like the inside
of the moon.)
When did I first
begin to understand?
Now, at daybreak,
(as at spring),
we are finally approaching
the other side of the sun.
Prehistory
In the ultrasound he's Johnny Appleseed
in sneakers, seventh malted milk ball
from the sun. He's a daisy chain
of good luck—think
a-boat it, boasts his dad
at the hotel, sipping
his paper cup of lukewarm tea—
someday he could be president
or better. Leader
of all the unborn sons, pope
though they aren't religious, cardinal
saint to every big cheese.
And what else?
In the ultrasound you can't tell
he'll lie under the bridge
on Sundays, letting the sea break
against his temple. You can't tell
he'll kneel on the kitchen floor
to let the ants
search his kneecaps. Age nineteen,
he'll load up red tubs
of noodles and rice,
and take night shifts that turn papery
and weak in his throat.
He'll swallow pills
out of a Coke can
to clear the dust. He'll shake
8-balls. Browse museums
for cubist paintings.
And the girl
sleeping on his porch steps?
They'll slide down the fire escape
hand-in-hand,
like the weight
of summer, late.
Huài shì hǎo shì
("evil things, good things")
Every New Year's Eve, my friend smashes six pomegranates
on her lawn, and when I ask why, she says it is because
she is Greek. I want to understand what she means—
on the Internet, I find Persephone: abducted
by Hades, her mother Demeter drying the earth
into a cold, long winter until Zeus arranged
for Persephone's return—because she ate
six pomegranate seeds, she had to return to Hades   
to spend each winter in the darkness. I wonder
if the more my friend's pomegranates break, the more
their seeds are spread—the more luck and fertility
there will be in the New Year, not so different
from my own superstition, my own need to squeeze
the eye dropper six times, never four, because my parents
say four is unlucky, since the word for four in Chinese,
Sì, sounds almost identical to death, and the only difference
is the level of inflection when pronounced. It seems strange
that six seeds would have been so unlucky, but without them,
there wouldn't be seasons to wish for. Without the number
four, I couldn't love the number six, and when she tells me
about the pomegranate pulp, tiny seeds clinging to frozen grass
in the January cold, maybe that's why I understand what she means.
for that morning when pretending was the only way to survive
after slauson malone
for the outline             I dusted my fingers with ashes
forgettable whose they were, b/c in this time there are
only the windows & the phalanxes for light b/c in
my mouth I forget the lingua franca   unfriendly in
the callouses that re-rapture non-Christians. Fated,
when money becomes the text of living, & we
climbed mountains just to feed ourselves. Fated,
futility comes in three packages & we all have
saliva in our poems & we are writing poems still
b/c they pretend to kill us & now all we are is an imagination
& somehow we're hungry, so fucking hungry. For this
my apologies arrive in lunch boxes—typed out
meticulously—on the dirty burnt computers
layering the floors of a house it will soon
set ablaze. I was chewing blood out of
policeman's fingers—I don't forget what language
I exist in. I am tired of being killed because I be
tranny on the electrical lines—I was killed, <not notable>
I imagined that refuge was masculine & refugee feminine
So I would know         which one had space for me
in its ranks. I draw a long lane & whistle at the other
forgetters to line up in it & pretend we drove all the
cars that ran us over.   We pretended & pretended
our limbic systems making little        circuits—enough to power
all of the dead streetlamps & to charge dirty batteries.
For pretending,           I took the ants & called them
Olanzapine.     I took the graves & called them beds.
I need what I need. I am pretending until there is nothing.
The creed        is to make do.  Is to
Make better.
To collect ashes          &
pretend.
meanwhile, in godLand
on the First Day
god juice brewed in black hole Beer Bellies.
Buoyant they surfed on cable-tv
supersonic waves to Heaven
from then on
It Has been Said God has let them be God.
and thus his Will was in place.
god Commands catch-and-kill the Noise.
roll NATIONAL ENQUIRER
and smoke Tom Cruise Settlement with Hot Busty Ex.
Male Prayer. their bellies Mighty.
Big Moon bellies that can crack a Lobster Leg.
divine Gifts of
Popped and Weighty guts that can shuck Space-Time
Be Good, god mouths.
when someone says in a slick voice
to lug your Sorry-Ass to Walmart.
to go and get some grocery store cake,
Fetch balloons
the size of a house
Notre Dame Burned to the Ground But That's Not What I'm Really Upset About
There is nothing poetic about destruction.
It does not stand as a sign to pay attention, idiot or a
metaphor for something more sinister at play. It is burning
tears, hacking lungs, songs hummed outside en mass,
and a crown of thorns saved in glass. It will not be the same,
not when we can still see the footprints and shadows,
not when we know what it is supposed to look like,
not when the ringing bells sounded like answered prayers.
I did not forget that we were the ones who
invented fire and music and language and chemistry
and good night, beautiful texts, but I could not imagine
how much I could hate them until I did. I'd like to have had a chance
to say a real goodbye, but I'm not sure either of us
would understand what I meant when I said it, my fingers itching
as I surely mix up the words I'm sorry and I love you
in the best language I could think of for you. But
we would not have felt the heat melt the glass or the weight
of the final crumble yet. Can you remember that? Silly us.
We did not know what we were getting ourselves into.
We lit the matches because it was too dark
to see at that time of night and we wanted to feel old
and wise and in control. We wanted to jump
into the Seine—fully clothed—and float downstream
until we bumped into each other at the end.
We always knew that there would be an end;
there was too much history for it to last forever, I think.
There is nothing poetic about destruction.
The Nostalgist's Guide to Naming the Lizard That Washes Up on Your Porch During the Flood
When the lizard washes up on your porch like an omen during the flood,
name it blue after the first time you ever saw the ocean and
realized that most of the world occurs where you are not.
When the lizard crawls up your toes and requests asylum,
name it yes after your father, who asked your mother to marry him
in the middle of a desert, where a single jackal howled at his proposal.
When the lizard curls around your leg and your two skins become like envelopes,
name it electric after the first kiss in a Pennsylvania storm, with raindrops
the size of tongues over your back, and mosquito bites all down your thighs.
When you pluck the lizard, writhing, from your body, to toss it
back into the water lapping at your door, to be washed away like in Genesis,
name the lizard nothing after the horizon that will inevitably swallow it,
distant and indiscernible in the midst of all this trembling water, all this flood.
a map of places to kiss in manhattan
in the golden king restaurant, leaning over unfinished plates of peanut noodles and fried rice because the fortune cookie gave us its blessing.
mercer st. on the way to janine's dinner party, as
the puckish sky pulls back a curtain to reveal pollock's spattering of stars. but it's fine, the onion tart tastes great cold.
on park ave. in the backseat of a taxicab-traffic jam,
eros suddenly finding himself in the triscuit box-yellow reverie of rush hour, dreams melding with dusty pedestrians.
between the canned fish and rice paper shelves in
midtown h-mart, the radio warbling i i i love you oh call me anytime, anytime, sardines waltzing in briny juices.
in the natural history museum under the canopy of
a tyrannosaurus rex skeleton, the air conditioner humming silently to remind us of the impossibility of first loves, fossilization & i—
at the intersection of 7th ave. and 57th st.,
watching the crosswalk light behind you secretly:
when it finishes counting down and the light turns red, i'll walk away
and say goodbye.