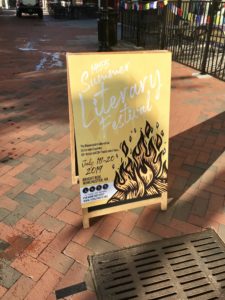 The second day of 1455's Summer Literary Festival started early and ended late. Between the first panel at Bright Box and the final books being signed at Winchester Book Gallery, we heard from dozens of writers, teachers, artists, and public officials. You can see details of each panel, taken from the event program, preceding each video.
Creativity and Community
1455 Founding Director Sean Murphy will be joined by Justin Kerns (Executive Director, Winchester-Frederick County CVB), Andy Gyurisin (Promotions Director, Alamo Drafthouse Cinema), and John Huddy (Director, Handley Library) to discuss and explore ways that celebrating creativity is also instrumental in community building.
Passion to Profession: Turning Creativity and Craft into Commerce
Local artists and entrepreneurs Cynthia Connolly (BANNED IN DC; photographer/artist and Special Projects Curator for Arlington, VA), Kerry Stavely and Neil Stavely (Tin Top Art and Handmade), Sarah Cohen (Route 11 Potato Chips), and Jill Donnelli-Hu (Dharma Yoga Studio) discuss the highs, occasional lows, and blessings of turning passions and obsessions into business plans. Moderated by Christine Patrick (Winchester Book Gallery).
The Art of Political Engagement
Authors and journalists Tom Kapsidelis (AFTER VIRGINIA TECH: GUNS, SAFETY, AND HEALING IN THE ERA OF MASS SHOOTINGS), Douglas Rogers (Two Weeks in November) will discuss how and why we must interrogate current events with creativity and passion. Moderated by 1455's Executive Director Sean Murphy.
The State of the Industry: Trends in Publishing
Gregg Wilhelm (Publisher, CityLit Press) will moderate a panel with industry experts to discuss what is (and isn't) changing in the contemporary publishing scene. Joining the discussion are Dallas Hudgens (Founder, Relegation Books; author of WAKE UP, WE'RE HERE), Richard Peabody (Paycock Press; Gargoyle Magazine), and Paula Whyman (Founding Editor of Scoundrel Time; author of YOU MAY SEE A STRANGER).
The Personal Impact of Global Affairs
Matthew Davis (Director, Alan Cheuse International Writers Center, GMU) will moderate a discussion about how global politics impact and broaden our understanding of contemporary literature. Joining him to explore the Cheuse Center's mission of "celebrating the art of creative writing as a means of international dialogue, education, and understanding" are Pauline Kaldas (LOOKING BOTH WAYS: AN EGYPTIAN-AMERICAN JOURNEY), Yeganeh Torbati (ProPublica), and Mike Miller (Washington Post).
Writing Through Trauma
Sarah Trembath (THE PAST WAS WAITING FOR ME), Holly Karapetkova (TOWLINE), Kirsten Porter, and Claire Kinnane will discuss how personal trauma has informed their work, and some of the ways writing can serve as inspiration and a force of healing. Moderated by Susan Mockler (NOISY SOULS).
Crime Scenes and Cocktails
Crime fiction writers David Swinson (TRIGGER) and Christina Kovac (THE CUTAWAY) — read from their work accompanied by musicians. David Swinson will be joined by fiddler Jeffrey Baldwin, and Christina Kovac will be joined by Sara Jones, on keyboard and vocals, respectively.
Children's Lit Reading and Panel Discussion
Libby McNamee will read from her debut YA novel SUSANNA'S MIDNGITH RIDE: THE GIRL WHO WON THE REVOLUTIONARY WAR and will join Jayda Justus (The History Mom) for a Q&A with Bethanne Patrick (NPR, TIME).
Teen Poetry Award & Reading
The Teen Poetry Award, sponsored by our friends at the Handley Library, will be presented, followed by a readings of the winning poems! Special reading from contest co-judge and teen poet Maia Siegel.
Sound & Vision: Poetry of Witness, with Jazz
E. Ethelbert Miller (FATHERING WORDS: THE MAKING OF AN AFRICAN-AMERICAN WRITER), T.J. Anderson III (RIVER TO CROSS), Holly Karapetkova (TOWLINE), and Sean Murphy (Founding Director, 1455; NOT TO MENTION A NICE LIFE) will read poems addressing the act of bearing witness (in general) and jazz musicians (in particular), accompanied by singer/actor Ayana Reed.