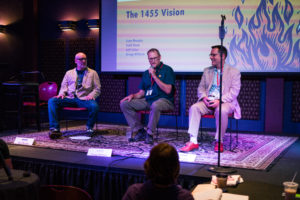 The third day of 1455's Summer Literary Festival kicked off early (with coffee) and ended late (with cocktails). Between the first panel at Bright Box and the closing remarks at Shenandoah University, we heard from dozens of writers, teachers, artists, and public officials. You can see details of each panel, taken from the event program, preceding each video.
The 1455 Vision
1455 Founding Director Sean Murphy will be joined by Jeff Coker (Dean of Arts & Sciences, Shenandoah University), Todd Sloan (Assistant Vice President, Schools & Colleges at American University), and Gregg Wilhlem (Director of Creative Writing, George Mason University) to discuss 1455's mission, as well as the increasing importance of cultivating creativity and celebrating community.
Hometown Heroines: Patsy Cline and Willa Cather
John Lingan (HOMEPLACE) and Melissa Homestead (THE COMPLETE LETTERS OF WILLA CATHER: A DIGITAL EDITION; Director of the Cather Project in the UNL English Department) will discuss the lives and local lore of Patsy Cline and Willa Cather, both of whom have critical (and not uncomplicated) ties to Winchester. Moderated by Warren R. Hofstra (Stewart Bell Professor of History at Shenandoah University; SWEET DREAMS: THE WORLD OF PATSY CLINE).
Family Affairs: Exploring the Memoir
Jeanne McCulloch (ALL HAPPY FAMILIES) and Robert Anthony Siegel (CRIMINALS: MY FAMILY'S LIFE ON BOTH SIDES OF THE LAW) will read from their new memoirs, which explore how family dysfunction is the gift that keeps giving—in life and literature. Moderated by Sean Murphy (Founding Director, 1455; author of memoir PLEASE TALK ABOUT ME WHEN I'M GONE).
Presentation by Justen Ahren
Justen Ahren (A STRANGE CATECHISM; Martha's Vineyard, Massachusetts Poet Laureate from 2017-2019) will present highlights from "Cultivating a Daily Writing Practice," the theme of his annual workshop in Italy.
Writers on Writing
Bethanne Patrick (@TheBook Maven; TIME Magazine), is joined by writers Nora Krug (The Washington Post), Marion Winik (NPR's All Things Considered; THE BALTIMORE BOOK OF THE DEAD), and Jacob Silverman (TERMS OF SERVICE: SOCIAL MEDIA AND THE PRICE OF CONSTANT CONNECTION) to discuss the recent disruptions in the publishing industry, the increasing disappearance of traditional media (including book reviews), and the opportunities therein.
Cultivating Creativity and Community
1455 Founding Director Sean Murphy will be joined by Robert Bettmann (Founder, Day Eight; Board Chair of the DC Advocates for the Arts), E. Ethelbert Miller (WPFW's On the Margin with E. Ethelbert Miller; AWP George Garrett Award for Outstanding Community Service in Literature) and Victoria Kidd (Owner, Hideaway Café) to discuss building community and their efforts at cultivating creativity via outreach and collaboration.
The Modern Masters: Fiction
Karen E. Bender (THE NEW ORDER), Louis Bayard (COURTING MR. LINCOLN), and Julie Langsdorf (WHITE ELEPHANT) will read from their latest, critically-acclaimed work. The authors will discuss the ever-shifting landscape of the literary scene. Following a brief Q&A, books will be available for sale and signing.
Closing Evening Reception at Shenandoah University
Cocktail and dinner reception and dinner featuring best-selling authors Angie Kim (MIRACLE CREEK) and Julia Phillips (DISAPPEARING EARTH) reading from their latest works. Opening remarks from Jeff Coker (Dean of Arts & Sciences and Professor of History, Shenandoah University), and closing remarks from Sean Murphy (Executive Director, 1455).