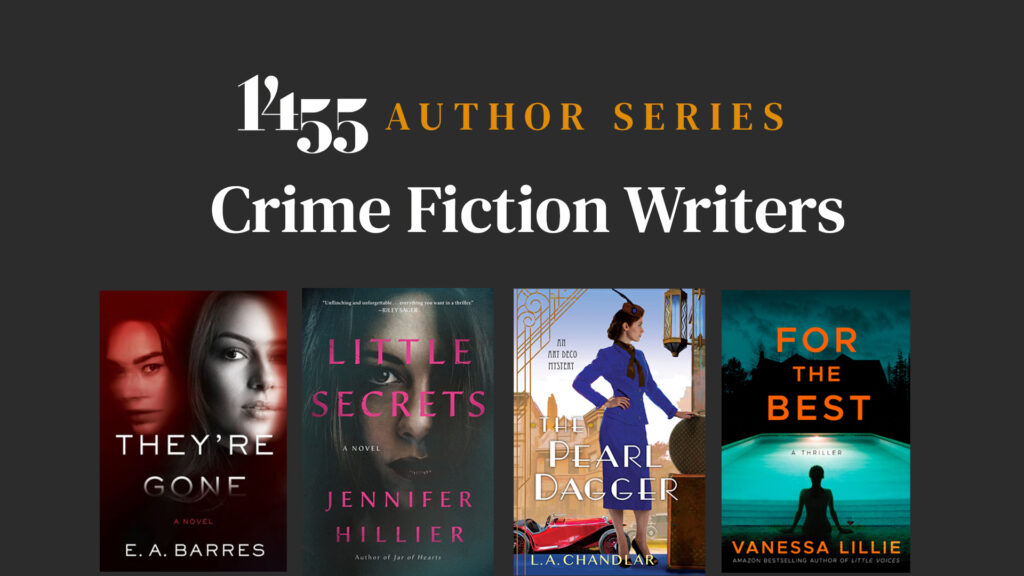 1455's Author Series welcomed crime fiction writers E.A. Aymar, L.A. Chandlar, Jennifer Hillier, and Vanessa Lillie.
Join crime fiction authors E.A. Aymar, L.A. Chandlar, Jennifer Hillier, and Vanessa Lillie in a spirited discussion of writing and publishing crime fiction in the year 2020. The four authors are extremely active in the crime fiction community, and all have books out this year. Their discussion will delve into what writing and publishing crime fiction in 2020 has been like, particularly in a year marked by social upheaval and protest, and how politics and social issues have reflected in their writing, and in their roles as writers.
Video of the discussion, and the recent 14:55 Interviews with each writer, below.
Jennifer Hillier writes about dark, twisted people who do dark, twisted things. Born and raised in Toronto and a proud Canadian, she spent eight years in the Seattle area, which is where all her books are set. She loves her son, her husband, the Seahawks, and Stephen King. Not equally, but close. She's the author of six novels, including JAR OF HEARTS, which won the Thriller Award, and was shortlisted for the Anthony and Macavity Awards. Her most recent psychological thriller, LITTLE SECRETS, was published on April 21, 2020. Visit her online at https://jenniferhillierbooks.com/
L.A. Chandlar is an award-winning, National Best Selling author with Kensington Publishing. THE SILVER GUN – Book One in the Art Deco Mystery Series debuted in 2017. THE GOLD PAWN (Best Historical Agatha Nominated, Silver Falchion Finalist) released 2018, and Book 3, THE PEARL DAGGER (Suspense Magazine's 2019 Book of the Year, Best Historical Agatha Nominated, Lefty Nominated, GANYC winner), released September 2019. Laurie takes a fresh look at the innovative and artful side of 1930s New York City and features Mayor Fiorello La Guardia. Her "Fight To Keep Creativity Alive" series focuses on creativity and how it helps us work, play and live more fully. Laurie lives in New York City with her family. Visit her online at https://www.lachandlar.com/
Vanessa Lillie is the Amazon Bestselling author of LITTLE VOICES, which received starred reviews in Publishers Weekly, Library Journal and was a Best Debut of 2019 from Bolo Books. She's a Board Member of Sisters in Crime and regular contributor to The Providence Journal. Her next book, FOR THE BEST, was released in September, and she's currently working on her third, which is set in rural Oklahoma. She's originally from Miami (Mi-am-MUH), Oklahoma and is a member of the Oklahoma Cherokee Nation. She now lives in Providence, Rhode Island with her husband and sloth-obsessed son. Smitten with the smallest state, she enjoys organizing book events and literary happenings in the city's robust creative community. Visit her online at http://www.vanessalillie.com/
E.A. Aymar's most recent thriller, THE UNREPENTANT (a nominee for the 2020 Anthony Award for Best Paperback Original), was published in 2019. His next thriller, THEY'RE GONE, is publishing TOMORROW under his pseudonym E.A. Barres. He has a monthly column in the Washington Independent Review of Books and is a former member of the national board of the International Thriller Writers. He is also an active member of Crime Writers of Color, the Mystery Writers of America and SinC, runs the Virtual Noir at the Bar series for Washington, D.C., and has hosted and spoken at a variety of crime fiction, writing, and publishing events nationwide. Visit him online at eaymarwrites.com.