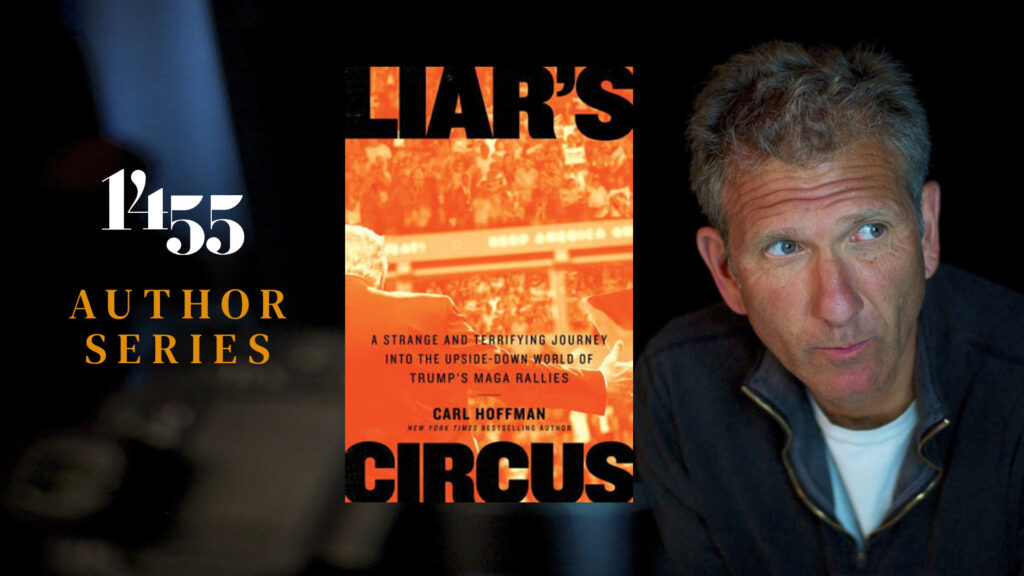 One way to measure a thoroughly engaging book is to review, upon completing it, the number of dog-eared pages and highlighted passages. Suffice it to say, there are too many of these to count in my copy of LIAR'S CIRCUS, and the best compliment I can offer is that, even as a self-confessed political junkie, I was enlightened by this book on many levels, but possibly came away with more questions than when I started.
A veteran reporter and author (see bio, below), Carl Hoffman decided, like a good scribe, that it was imperative to get in the proverbial belly of the beast: in order to accurately describe and assess the Trump rallies, he had to participate in several of them. One thing he immediately encounters—and describes with anecdotes at once amusing and appalling—is the complete cognitive dissonance amongst Trump super-fans; the utter alternate reality they exist in.
Hoffman also describes the unique energy of a Trump rally, the stagecraft which is equal parts Pro Wrestling and Country Music Festival (one of the chapters is perfectly entitled "A self-induced Imaginary Frenzy"), but with a surreal and scary edge, equal parts fury and ecstasy. "It was all just make believe, democracy reduced to a traveling circus. The nonsensical conspiracy absurdity wasn't espoused by some tiny percentage of rally goers, but by the vast majority of them."
Our conversation was recorded and can be viewed, below. If you're looking to get a better understanding of the upside-down unreality of our current political discourse, LIAR'S CIRCUS is a must-read (get your copy delivered to your door, and support independent bookstores via our friends and partners at DC's historic The Potter's House). Check it out and spread the word!
Carl Hoffman is the author of the critically acclaimed New York Times bestselling Savage Harvest: A Tale of Cannibals, Colonialism, and Michael Rockefeller's Tragic Quest, which was a New York Times "Editor's Choice," a NY Times best seller, one of the Washington Post's 50 notable books of 2014, a Kirkus best book of 2014 and the number one non-fiction book of 2014 on Amazon.com. The Lunatic Express: Discovering the World via Its Most Dangerous Buses, Boats, Trains, and Planes, was one of the Wall Street Journal's ten best books of 2010. He is a former contributing editor to National Geographic Traveler and Wired magazines and his narrative pieces have also appeared in Smithsonian, Outside, Men's Journal, National Geographic Adventure and many other magazines. He has traveled on assignment to eighty countries and is the father of three young adults. He lives in Washington, D.C.