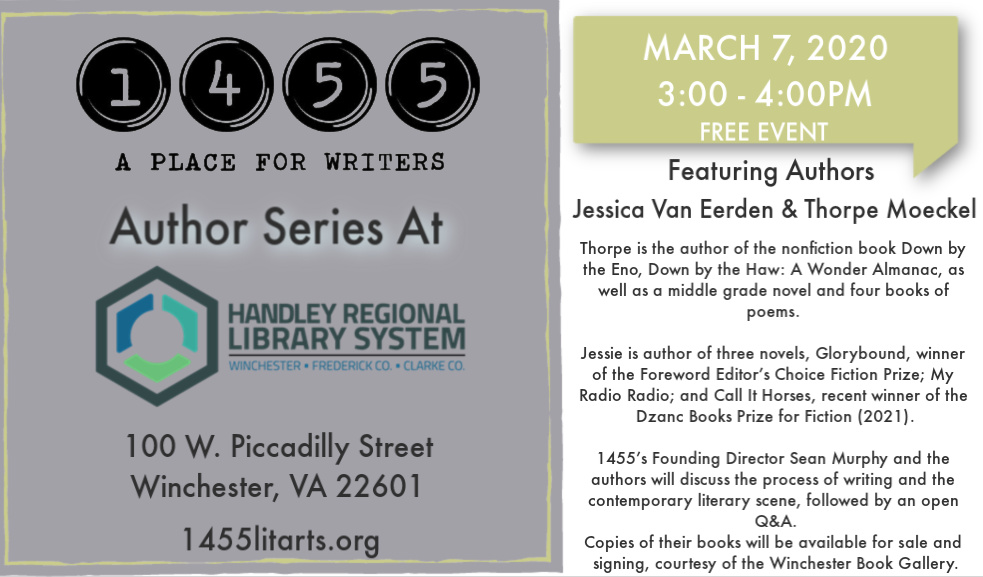 1455's Author Series at Handley Regional Library continues with Thorpe Moeckel and Jessie van Eerden.
Thorpe Moeckel is the author of the nonfiction book Down by the Eno, Down by the Haw: A Wonder Almanac, as well as a middle grade novel and four books of poems. His work has been widely anthologized and honored with NEA, Javits, Hoyns, Sustainable Arts, and Kenan Fellowships. He holds degrees from the University of Virginia (MFA) and Bowdoin College (BA). Thorpe teaches at Hollins University and lives at Snail Hollow in Virginia's Alleghenies.
Jessie Van Eerden is author of three novels, Glorybound, winner of the Foreword Editor's Choice Fiction Prize; My Radio Radio; and Call It Horses, recent winner of the Dzanc Books Prize for Fiction (2021). She is also the author of the portrait essay collection The Long Weeping, winner of the Foreword INDIES Book of the Year Award. Her work has appeared in Best American Spiritual Writing, Oxford American, New England Review, and other magazines and anthologies. She has been awarded the Gulf Coast Prize in Nonfiction, the Milton Fellowship, and a Mid Atlantic Arts Foundation Fellowship. Jessie holds an MFA in nonfiction from the University of Iowa and teaches creative writing at Hollins University.
1455's Founding Director Sean Murphy and the authors will discuss the process of writing and the contemporary literary scene, followed by an open Q&A.
Copies of their books will be available for sale and signing, courtesy of the Winchester Book Gallery.
This is a free event!