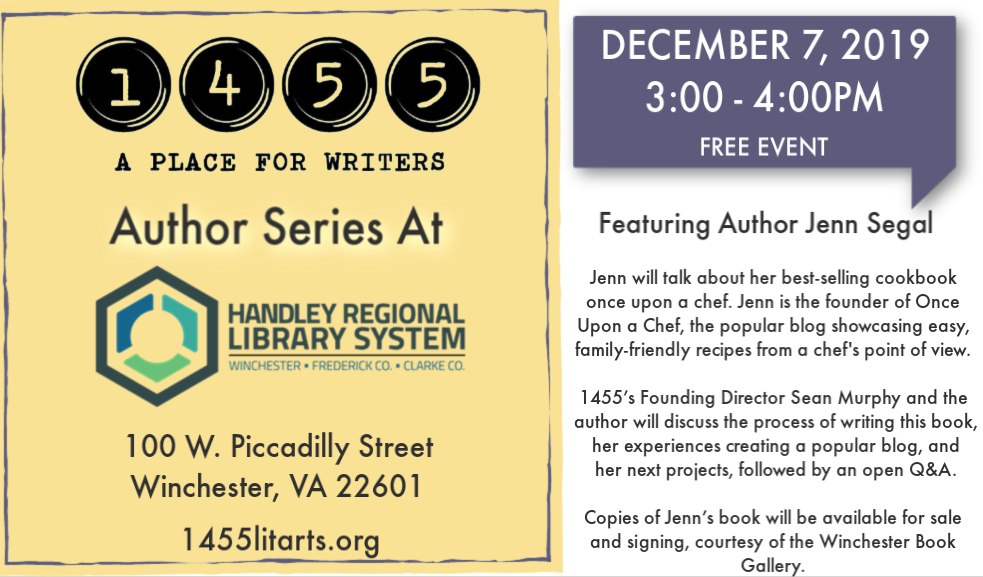 1455's Author Series at Handley Regional Library continues with Jenn Segal, who will talk about her best-selling cookbook Once Upon A Chef: 100 Tested, Perfected and Family-Approved Recipes. Jenn is the founder of Once Upon a Chef, the popular blog showcasing easy, family-friendly recipes from a chef's point of view. Her recipes have been featured on numerous websites, magazines, and television programs, including  The Oprah Magazine, Good Day DC, The Hallmark Channel, thekitchn.com, and Parade.com. Before starting her blog, Jenn cooked at the acclaimed L'Auberge Chez Francois and was director of marketing for a prominent restaurant group, both in the Washington D.C. metro area. She now lives in Potomac, Maryland, with her husband, two children, and two chocolate labs.
1455's Founding Director Sean Murphy and the author will discuss the process of writing this book, her experiences creating a popular blog, and her next projects, followed by an open Q&A.
Copies of Jenn's book will be available for sale and signing, courtesy of the Winchester Book Gallery.
This is a free event!